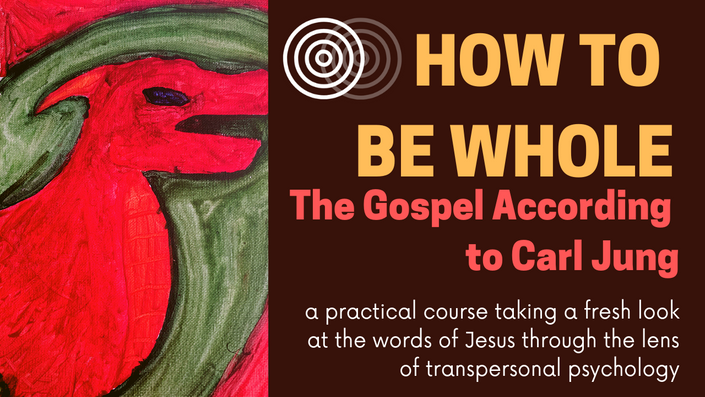 HOW TO BE WHOLE - The Gospel According to Carl Jung
A practical course taking a fresh look at the teaching of Jesus through the lens of transpersonal psychology.
Watch Promo
WHO AM I?
WHY AM I HERE?
WHAT'S IT ALL ABOUT?
These are the big existential questions of life.
They really matter, don't they?
But is it really all about me?

Maybe.
Maybe not.

Maybe we're all connected in such a way that when I sort out my own stuff from within, I'm actually helping sort out all the other stuff out there.
That's the theory according to transpersonal psychology anyhow.
Intrigued?

So was I? And my curiosity prompted me to take a journey that has brought me to a completely different place than where I was 30 years ago when I first became aware of the teachings of Dr Carl Jung.

I didn't fully understand what he was saying at first because, as an evangelical Christian with a fixed in a dualistic worldview, I couldn't comprehend nor accept how God was the Self, and sin was unintegrated shadow. It was too big a leap to make.
But life brought me experiences that challenged my traditional beliefs, and I found myself gradually changing. It was as though I had outgrown them and was hungry for something that would take me deeper and resonate in a real way. I became interested in the Christian mystics, and began my own inner journey. The teachings of Jesus took on a new light, leading me to re-evaluate his words.
This alongside my interest in Carl Jung's teaching brought me to realise that the essential truths underlying the biblical narratives are archetypal and can emerge afresh for each generation. Similarly the Christ motif that was exemplified in the person Jesus of Nazareth, is also made manifest and 'incarnate' in the life of each and every individual Christ-ed soul.

I can honestly say this revelation was transformational!
I'm keen to share everything I've learned with you, and encourage you as you begin to make your own journey towards wholeness.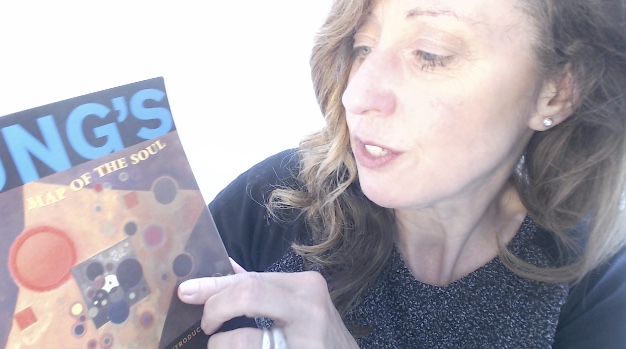 Understanding psyche and consciousness
Carl Jung was one of the greatest minds to have graced this planet in the last century. Actually this sentence is incorrect, since, as we will learn, there are no 'minds' as such, but only one mind. When we go beneath the surface of the conscious mind (which give the illusion of separation) we discover that we are all connected within a field of universal consciousness, what Jung calls the Collective Unconscious. This is the realm of archetypes and symbols that shape all human experience. Don't be put off at the thought of arduous academic study. We touch on this through specially prepared pdfs that summarise the main points, and the sections are structured in accessible chunks, I refer mainly to 'Jung's Map of the Soul: An Introduction' by Murray Stein (pictured above) and you can always go deeper into research if you so choose. There will also be selected clips of Carl Jung himself explaining his ideas, as well as my own commentary in short video presentations. Downloadable powerpoint slides are also included to vary the style of content and learning. Most importantly there will be opportunity to ask questions and make comments during the live webinars, that allow valuable interaction and experiential learning.
Practical Spirituality
Live webinars will be hosted on a private group Facebook page. You will be able to ask questions here about any aspect of the course. I wlll also include a guided visualisation to lead you in an exercise relating to archetypal symbols so that you can continue to reflect in your own time upon what emerges, allowing the unconscious to be your teacher. This is where the real transformation happens!
Seeking the inner meaning of the teaching of Jesus
In the light of what we learn about the psyche, consciousness and the map of the soul from Carl Jung, we will re-visit the gospel narratives, looking for the inner meaning of the words of Jesus. I will show you how to find a word for word translation from the ancient Greek, using a free website resource that is an invaluable tool, enabling you to get as close as possible to the original meaning of his words, allowing them to speak to you afresh.
Who's it for?

This course is for you if…
you are interested in learning about the transpersonal psychology of Carl Jung

you want to begin a journey of self-enquiry

you feel drawn to the person Jesus, but don't want to make a religious commitment

you are a practising Christian, and want to go deeper in your personal journey and understanding of the Christ within

you want to find meaning and purpose to your life

you are curious to explore the connection between psychology and spirituality

you are keen to strengthen your awareness of your own inner guidance

you want to experience the mystery of a transcendent, higher consciousness

you feel fragmented and are seeing wholeness.

you want to grow within a supportive, like-minded community.
What does it involve?
You will work your way through short instructional videos covering different topics as outlined in the syllabus below. It will be delivered by a mixture of instructional videos, downloadable pdfs, audio files and maybe the odd quiz here and there. That said, how much you get out of it inevitably comes down to you. Quiet time for reflection is something you will need to factor in if you want this course to be truly transformational. I say that because the real work of grace will happen within your heart, so your intention and your commitment to setting aside time to sit and reflect is paramount.

I will suggest practical activities that will help guide such times of personal reflection, and I suggest you keep a journal to document the process.

You will be invited to attend TWO LIVE WEBINARS as part of the course. If you are unable to make the scheduled time, don't worry; the recording will be made available for you to view.

You are also encouraged to use the comments facility within the units to feedback your experience and ask any questions. I very much aware that though I have designed the outline of the course and prepared content, much of it will be shaped by YOU

.
What will I get out of it?
TRANSFORMATION!

I can't give you more detail about that because it's your path.
Your psyche.
Your soul.
Your life.
You're in the driving seat.
Can you hear it?
That still small voice?
The call of your soul to guide you home?
Of course you can. Otherwise you wouldn't be here, reading this.
So what are you waiting for?
ENROL NOW!
COURSE BEGINS 3 FEBRUARY 2020
ENROLMENT NOW OPEN
Contents
iNTRODUCTION
Available in days
days after you purchase
PERSONA
Available in days
days after you purchase
IN THE BEGINNING
Available in days
days after you purchase
Frequently Asked Questions
When does the course start and finish?
The course starts now and never ends! It is a completely self-paced online course - you decide when you start and when you finish.
How long do I have access to the course?
How does lifetime access sound? After enrolling, you have unlimited access to this course for as long as you like - across any and all devices you own.
What if I am unhappy with the course?
We would never want you to be unhappy! If you are unsatisfied with your purchase, contact us in the first 30 days and we will give you a full refund.